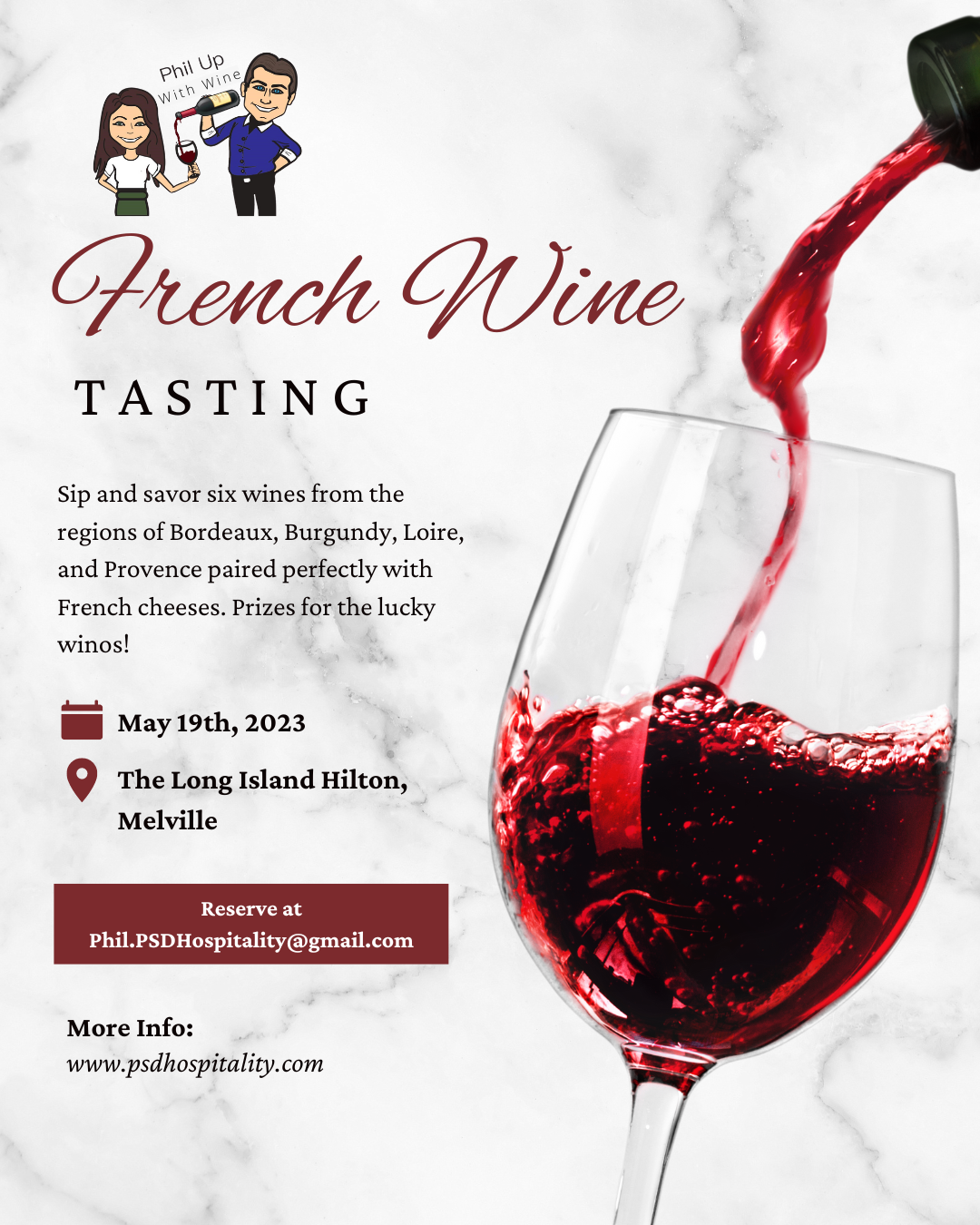 Phil UP with Wine WINE ALERT!!!!



FRENCH WINE TASTING with FOOD Pairing
Check in is 6:45PM
Friday May 19 Time: 7PM-9PM ish
At The Long Island Hilton - on 110 in Melville NY
in Banfi Room past the reception desk to the right hallway.
Price:$75 No "Whining" only wining
Payment through Venmo or Zelle. Venmo: Philip-David-1
Inquire with questions, email Phil@psdhospitality.com, or psd207@yahoo.com
Instagram: #Philupwithwine
Wine page: http://www.psdhospitality.com/philup-with-wine.php
Tasting 6 wines, regions of Bordeaux, Burgundy, Loire, Provence.
Paired with French cheeses.
Great Prizes for the lucky winos, I mean winners.
Agenda
Fun Wine Facts, how to taste wine properly, proper restaurant wine service,French AOC laws and Appellations, wine characterisitics, grapes of the French wine regions, How to open a bottle of wine and Champagne/Sparkling wines, and of course tasting six excellent French wines with different matching foods. Quiz and Question and answers, Fun, casual, informative.
Please refrain from any perfume/cologne, and eating any spicy foods or gum chewing prior to the event.
No Smoking or Vaping permitted on premise.

JUNE wine tasting will be USA wines!!! Details coming soon.